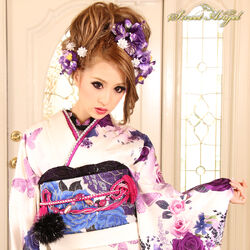 In December of 2010,
gyaru
fashion magazine Koakuma Ageha (translating to "Little Devil Swallowtail Butterfly") published a special feature called Kimono Ageha. It has been irregularly published since then, featuring Koakuma Ageha's models in stylized kimono, taking cues from Koakuma Ageha's unique style of himegyaru ("princess gyaru").
Typical Kimono Ageha looks include modern up-dos taking inspiration from traditional hairstyles like wareshinobu and ofuku, paired with lightened or bleached hair and silk flower mock-'kanzashi'. This is paired with dark eyeliner, fake eyelashes, and cosmetic circle lenses to create a bright-eyed, anime-esque appearance.
The kimono themselves are altered very little, but display large, bold floral patterns, especially roses. They sometimes employ glitter, rhinestones, or sequins. The obi are heavily accessorized with flowers, sheer or lace heko-obi, obi-dome, and strings of beads or rhinestones. Kimono are frequently worn off the shoulder with obi tied in the front, emulating the style of Oiran.
Kimono Ageha magazines often feature tutorials on how to duplicate these hair and makeup styles, and rentals of these kimono and accessories are available online.
Ad blocker interference detected!
Wikia is a free-to-use site that makes money from advertising. We have a modified experience for viewers using ad blockers

Wikia is not accessible if you've made further modifications. Remove the custom ad blocker rule(s) and the page will load as expected.